Fire Facts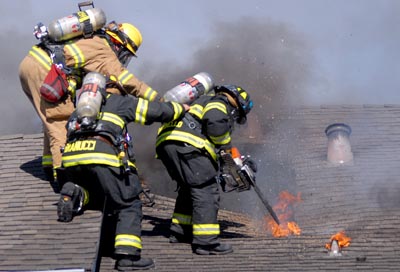 The mission of Hollister Fire Department is to safely serve the community by protecting life, property, and the environment through prevention and response. Hollister Fire Department performs these task humbly with great pride and professionalism.
Everyone with Hollister Fire Department believes that a 24 hour shift is a successful one when we can carry out our mission fully and all members can go home safely to their families. This belief is always challenged due to the inherent nature of our job coupled with the fact that our daily staffing is at 6 to 8 Firefighters for a population of approximately 38,000 plus residents.
Today with municipal governments decisions of lowering staffing and reductions of services. America's Fire Departments to include your own Hollister Fire Department are faced with added challenges to the above belief and tasks, as well as other standards. We invite you to take the time to read and listen to the links below and after you have read them please don't hesitate to contact us for more information or answers to your questions.
National Fire Protection Association Standard 1710
Standard for the Organization and Deployment of Fire Suppression Operations, Emergency Medical Operations, and Special Operations to the Public by Career Fire Departments.

Click the picture for a video which address this.
National Institute of Science and Technology Report
April 2010 NIST Report on Residential Fire ground Field Experiments.
This project systematically studies deployment of fire fighting resources and the subsequent effect on both firefighter safety and the ability to protect civilians and their property. It is intended to enable fire departments and
city/county managers to make sound decisions regarding optimal resource allocation to meet service commitments using the results of scientifically based research.
Click here for Executive Summary
Click here for the full 104 page report (please allow a bit of time for .pdf report to load)
For more information please contact us by clicking here. Thank you for your continued support.